Harburg Castle Looming over the Wörnitz River. The medieval covered parapets, towers, turrets, keep and red-tiled roofs of the 12th-century. Schloss Harburg is so perfectly preserved they almost seem like a film set.
Harburg Castle is one of the jewels of the German Romantic Road. Wonderfully preserved, the castle sits high on a hill and overlooks the town for which it's named. It is unclear when the first structure was erected, but the castle was first mentioned in a document in 1150. Harburg was built by the former Hohenstaufen emperors of Germany in the 11th or 12th century.
In 1295, the castle was transferred to the Count of Oettingen and it has belonged to the Oettingen. And later the Oettingen-Wallerstein, families ever since.
The castle complex, including the castle house, chapel, sentry walk, prison tower, dungeon, and various buildings. Which used to support the inhabitants. Most noteworthy that the castle surrounded by a wall supporting six towers. The castle ballroom is pictured at left. In the center of the complex is a large courtyard with a well.
The present-day fortifications mainly date from the 18th century.  And can be visited in summer from Tuesday to Sunday. There is also a small hotel-restaurant in the castle.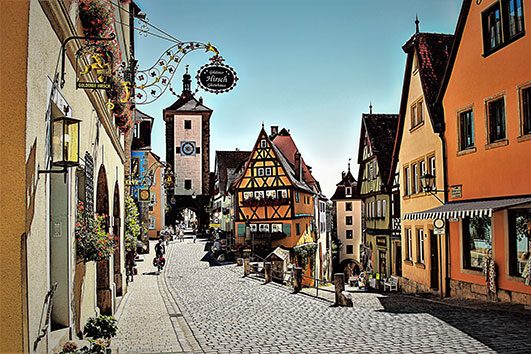 From the vineyards of Würzburg to the foot of the Alps (Füssen), the almost 400km-long. Romantic Road (Romantische Strasse) draws two million visitors every year, making it by far the most popular of Germany's holiday routes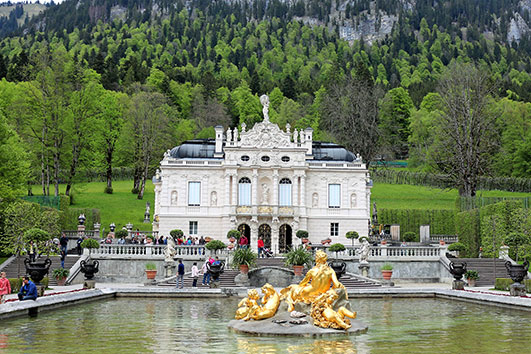 From the Romantic Road to Neuschwanstein, from Bavaria to Tyrol. Experience the medieval villages, visit the fairytale castle of Neuschwanstein, explore Innsbruck and enjoy Swarovski Crystal World.