Dinkelsbühl´s Old Town is a well-preserved, medieval. The walled city located in Bavaria, along Germany's Romantic Road. The city's Old Town is compact. But it offers its visitors a beautiful, well-preserved, walled village, surrounded by beautiful gardens and water.
The town is known for its elegant patrician houses and impressive mercantile buildings. Dating from the 15th and 16th centuries.
The town's treasures are mainly architectural. Dinkelsbuhl is world famous for its fortified wall and sixteen towers. Four of which provides access to the city.  The wall, which surrounds the Old Town, is interesting in itself and we recommend walking its perimeter for some dazzling sights.
Dinkelsbuhl was settled over twelve-hundred years ago and evidence of the first fortress dates from the 10th century.  During the succeeding centuries, the town prospered while becoming a noted center for the production of fine cloth.
During the Thirty Years War (1618 – 1648), Dinkelsbuhl (also spelled Dinkelsbuehl) and its walls were partially destroyed, but the capture of the city by Swedish forces in 1632 protected it from further damage.  Somewhat remarkably, Dinkelsbuhl emerged unscathed from World War I and II and is today one of the finest examples of fortified, walled, German towns. (This, in part, was due to the foresight of the Bavarian King Ludwig I, who, in the early 19th century, issued a proclamation forbidding the destruction of the town's wall and towers.)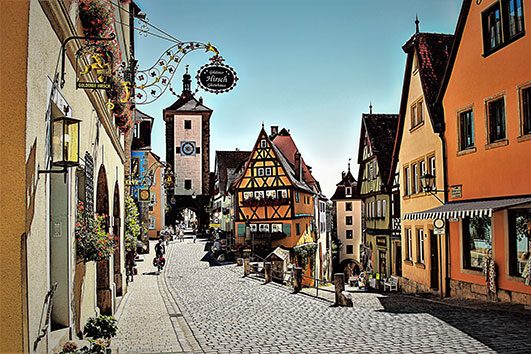 From the vineyards of Würzburg to the foot of the Alps (Füssen), the almost 400km-long. Romantic Road (Romantische Strasse) draws two million visitors every year, making it by far the most popular of Germany's holiday routes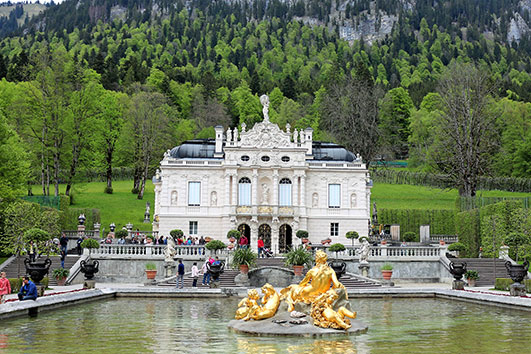 From the Romantic Road to Neuschwanstein, from Bavaria to Tyrol. Experience the medieval villages, visit the fairytale castle of Neuschwanstein, explore Innsbruck and enjoy Swarovski Crystal World.