is nestled in the hills overlooking Innsbruck. It is known for its cultural and historical significance. This Castle is one of the most important sights in Innsbruck. From 1563 to 1595, the castle served as the residence of Archduke Ferdinand II.
The modern castle was constructed by the Archduke Ferdinand II. When he ordered Italian architects to convert a medieval fortress into what would become a Renaissance-style residence for him and his wife. Following the death of Ferdinand, the castle was inherited by his son, Charles. With little interest in the castle, he later sold it and it was used on an infrequent basis. Falling largely into disrepair. In 1855, the palace was finally remodeled to serve as a summer residence for Archduke Karl Ludwig. Unfortunately, it quickly fell into disrepair once again. And it was not until 1970 that restoration began on the castle and it was finally opened to the public in 1981.
Today
visitors are able to enjoy a wide array of treasures held inside the castle. Include two rooms in the lower part of the castle that feature arms and armor. A valuable art collection is housed on the first floor. While the bathroom of Philippine Welser, the wife of Ferdinand, is still housed in an upper part of the castle. The Spanish Hall, constructed between 1569 and 1572 and situated between the lower and upper part of the castle. Ambras Castle features an excellent example of German Renaissance architecture. Numerous frescoes adorn the walls of the hallway. The Hallway is frequently home to a number of classical concerts throughout the year.
The oldest part of Ambras Castle is the Upper Castle and home to the Habsburg Portrait Gallery. The gallery contains approximately 300 portraits that date from the 15th century to the 19th century and includes portraits of such well-known individuals as Emperor Maximilian I, Ferdinand I, Charles V, and even Napoleon Bonaparte.
One of the most important patrons of the Habsburg family, Ferdinand II founded the stunning collections housed in Ambras and even had a special museum constructed to hold the collection. Built inside the Lower Castle, the museum was constructed according to the most advanced ideas of the time. Perhaps one of the most fascinating aspects of the castle is that even today, centuries later, it is still possible to see the collection just as they were originally intended to be displayed.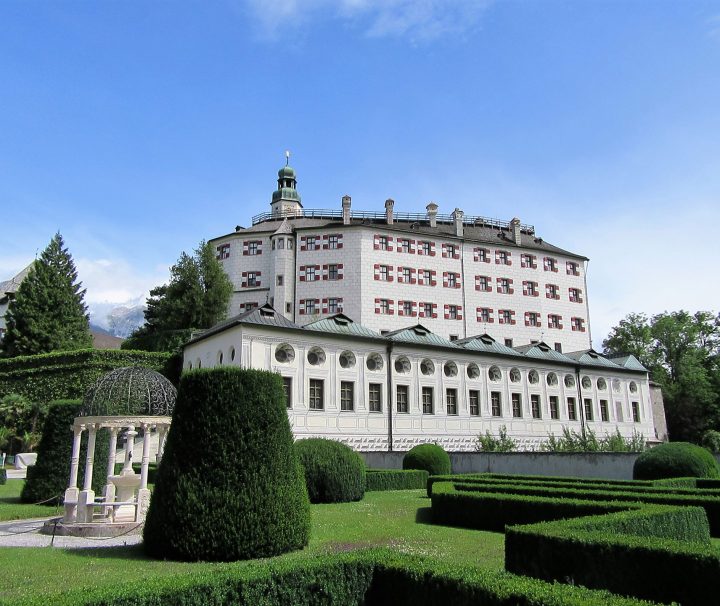 Innsbruck, the capital of the Alps and Ambras Castle. A trip back in time to an era of knights and medieval merchants.